Eth
Eth is a player for the Mount Buller Demons in the Sweet FA where he currently serves as their co-captain and has captained the club since the end of Season 15, including to their maiden premiership in Season 18. He is a two-time best and fairest winner for the Demons and a Mobbenfuhrer Medallist, and has earned the most All-SFA selections of any Demon with five.
Season 12
[
edit
]
Eth, then known as eth38, was recruited to the Mount Buller Demons during the off-season prior to Season 12 by then-captain EBIAC . A versatile recruit, able to play off flanks at either end of the ground, his career started solidly as a rebounding defender, but as his contributions grew in number and quality, he progressed to the midfield, playing off the wing, and enjoyed a good season, improving as the season went along.
He had his first taste of finals footy, coming up against West Coast Wonders in an elimination final. Though the Demons lost by 22 points, Eth's form continued, racking up 21 disposals to be one of the Demons' better players.
Season 13
[
edit
]
Eth, after being promoted into the leadership group in his second season, once again began to enjoy playing through the midfield, having a good season statistically. He began to better his posting as he grew more accustomed to the style of the league, and was rewarded for consistent effort with a move on-ball late in the year, after playing as a winger and outside midfielder. He thrived in the new role, and over the last few rounds he managed to poll enough votes in the Deestroy Medal to finish seventh.
Season 14
[
edit
]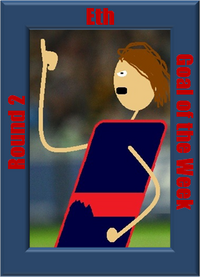 It was a breakout year for Eth. After maintaining his previous year's form, the departure of captain EBIAC led to a much larger role as he was promoted to deputy vice-captain and then to vice-captain over the course of the season and he quickly became one of the Demons' best on- and off-field contributors. His posting increased in number under the realisation of a greater weight to carry amongst the Demons. On-field, his role as an inside midfielder was noticed and rewarded, as he won both the league best and fairest - the Mobbenfuhrer Medal, with 18 votes, tying with Gumby Claypigeon - as well as his first Deestroy Medal, alongside utility Deddy. It also won him his first place in the All-SFA team.
He helped lead the club to second on the ladder by the end of the season, and thus to a Grand Final. Although he and the club had desperate aspirations to win its first ever premiership, they were unable to do so, ultimately finishing runner-up.
Season 15
[
edit
]
Eth backed up his consistent form from Season 14, lifting his posting game and also maintaining his class on-field, averaging 18 disposals, 6 tackles and a goal a game throughout the season, culminating in a second best and fairest win, All-SFA selection as a rover for the second consecutive season and another 15 votes in the Mobbenfuhrer Medal to finish 7th overall.
He became an inaugural member of the controversial Flogcutters group, and also began the statistics thread, Stat My B*tch Up, utilising Exie points amongst other statistical features and analysing them, which was well-received.
Season 16
[
edit
]
After Juggalo Balla's exit, alongside many other senior players, Eth stepped up as captain of the Demons. Helping recruit posters such as Footypie32, Gentlemen, raven echo and Smartys Power to strengthen the club, Eth had a solid season leading the Demons to finals action once again, though it was short-lived as they lost to the Swamprats in the first week. He polled 33 votes in the Deestroy Medal to finish fourth.
Career Stats
[
edit
]
See career stats here.
| Season | Games | Disp. | K | HB | M | T | HO | G | B | DT |
| --- | --- | --- | --- | --- | --- | --- | --- | --- | --- | --- |
| 12 | 15 | 13.7 | 7.1 | 6.7 | 4.5 | 0.5 | 0 | 0.1 | 0.1 | 49.5 |
| 13 | 17 | 15.1 | 7.3 | 7.8 | 2.9 | 1.7 | 0 | 0.8 | 0.4 | 55.3 |
| 14 | 18 | 18.4 | 9.7 | 8.7 | 0 | 5.2 | 0 | 0.9 | 0.4 | 71.9 |
| 15 | 17 | 16.8 | 9.7 | 7.1 | 0.2 | 5.5 | 0 | 0.9 | 0.4 | 69.6 |
| 16 | 19 | 15.8 | 7.7 | 8.1 | 0.2 | 4.8 | 0 | 0.8 | 0.6 | 62.7 |
| 17 | 20 | 14.3 | 7.3 | 7.0 | 0.1 | 5.3 | 0 | 0.9 | 0.4 | 62.3 |
| 18 | 21 | 18.7 | 9.2 | 9.4 | 0.5 | 5.5 | 0.0 | 0.7 | 0.4 | 75.7 |
| Overall | 127 | 16.2 | 8.3 | 7.9 | 1.1 | 4.2 | 0.0 | 0.7 | 0.4 | 64.5 |